Mohammad Aslam, Pakistani American Community Stalwart
By Mowahid H. Shah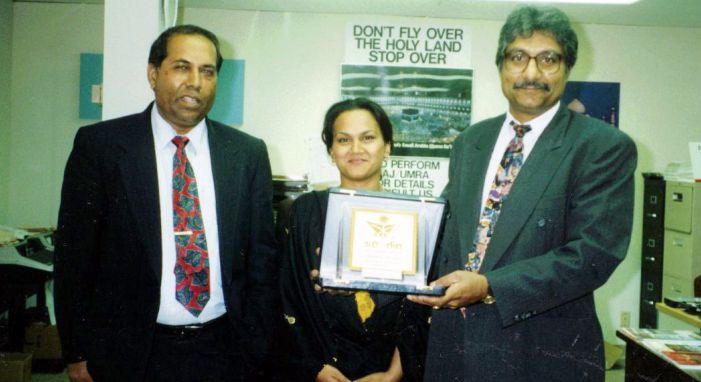 WASHINGTON, DC – Mohammad Aslam, 76, who passed away in the greater Washington area during the afternoon of Wednesday, March 6, came to Washington, DC from his village, Kakrali, Gujrat District, on September 1, 1965.
From the beginning, he was imbued with a community spirit to help others. Among his early works was setting up Shalimar Entertainment, through which he hosted Indo-Pak artists of repute, and organized cultural shows. This was done at a time when even placing a telephone call to Pakistan was quite an ordeal, sometimes taking days to book. 
His kindheartedness had a broad resonance that transcended petty prejudices of region, sect, and provincialism. His award-winning travel agency, Metro International served, in effect, as a community hub and initiated affordable Hajj packages, which he often led. Many a time, customers who were in a rush to get to Pakistan because of a family emergency with insufficient funds to cover the cost of travel were given a ticket on the understanding that they would pay upon return to the US. Many a time, that pledge was not honored, and Aslam incurred losses without ever getting angry or threatening to sue. Such was his empathy that many through his own resources and contacts secured green cards, jobs, and financial aid. 
After Juma prayers, he was often seen outside a mosque, along with his colleague, El-Haj Meraj Siddiqui, collecting donations for indigent Muslims and those whose families couldn't pay for funerals, and also for transportation costs of bodies to Pakistan for burial. He also helped battered wives and his intervention provided solace to the truly needy. 
Before the Internet and satellite age, Aslam was the proprietor of the premier Washington-based Muslim newspaper, Eastern Times, during the 1990's, of which I was the Editor. Eastern Times was at the forefront of strenuously opposing the Gulf War of 1990-1991. Featured on US TV, it gained particular renown in Washington circles and beyond, warning US policymakers of the war's lethal repercussions – warnings which proved accurate. 
Over the years, Aslam saw the community grow from a tiny size to a bustling presence. He always used to tell me that he never viewed helping people as a burdensome chore. Rather, he relished it. 
A positive person, always friendly, with a smile and good nature, he remained a popular presence. During his later years, despite being restricted by ill health, his spirit to help others never flagged. 
With his passing, a chapter closes of pioneering stalwarts who were at the forefront through their camaraderie, enthusiasm, and fellowship. Aslam will be much missed.